Meet the Staff
Our mission is to make Truro and Colchester County the healthiest communities on the planet which is why we have invested time and energy daily into the development of our team. We understand that it takes a TEAM to do this. It is our belief that the "strength of the wolf is in the pack and the strength of the pack in the wolf." Simply meaning, at some point you may decide to be a part of Well Within Chiropractic and each one of our team members have worked hard to make sure we are ready for that privilege!
We recognize that our foundation at Well Within Chiropractic needs to not only be strong, but also committed in order to take our mission and transform it into reality.
Our country, and the world, is getting sicker by the day and we have decided to create the solution, instead of watch from the sidelines and become part of the problem. We believe that we have the answer, and guess what, IT IS NOT A PILL and it is not the INEVITABLE illnesses that society has conditioned us to believe will happen. Instead, it is something that we refer to as LIFESTYLE with a focus on wellness and prevention. More specifically, our answer to your questions regarding health is very simple… BE FIT, EAT RIGHT, and THINK WELL WITHIN.
Monique Barley – Office Manager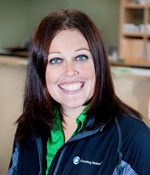 I have been working as a Chiropractic Health Assistant since the opening of Well Within Chiropractic, I am happy to be one of the first faces you see when you come into our health centre.
I have two spectacular children whom I adore, Sierra and Isaac and my husband Travis is my best friend. I think it is important that you know I started as a chiropractic patient first before starting a career working in the chiropractic field. I came to see Dr. Celina about headaches and my life and my whole family's life changed dramatically. I no longer have headaches. I am off all of my medications. … read more
My daughter is free of bowel problems and stays healthy. My husband has lost 35lbs, is off all medications, is pain free – all because of chiropractic. I feel strongly about the pursuit of optimal health through a balance of physical, emotional and spiritual well-being.
It is a great honor to serve you in this quest for wellness and I am committed to working with you in establishing a healthy lifestyle for you and your family.
Jessica Nielson – Registered Massage Therapist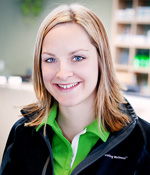 I look forward to becoming a valuable asset to your health team. My previous experience includes working in both a clinical setting and a spa which has allowed me to gain valuable experience which I will bring to you. I have worked with all types of people just like you; during pregnancy, after pregnancy, acute injuries, weekend warrior aches and pains, as well as more serious neurological diseases. I am also very good at providing relaxation massage for those of you who may just want to chill out.
If you see me around town while I am running, playing soccer or even working out…please stop me and introduce yourself. I am looking forward to meeting you in the very near future. It is my goal to make every massage not just good one but a GREAT one! I feel there is nothing better than helping someone else feel better, heal better and to have a better day.
We look forward to meeting you and helping you achieve your health goals. Give us a call today at (902) 843-3445!

Be Fit. Eat Right. Think Well Within. Get Adjusted!